5/7/2020
Jackson Avenue Branch will resume Drive Thru Service on Monday May 11th at 8:30 am!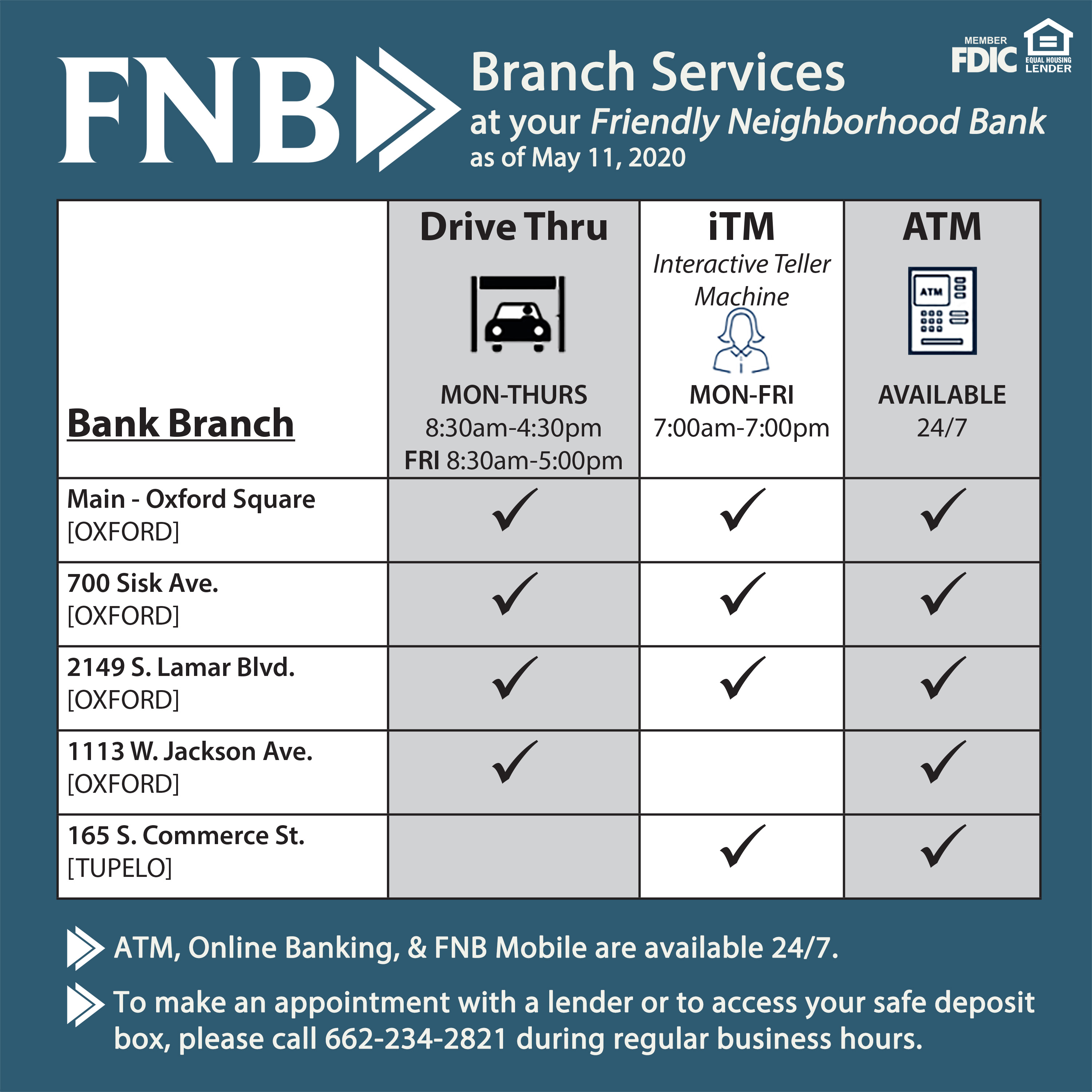 4/24/2020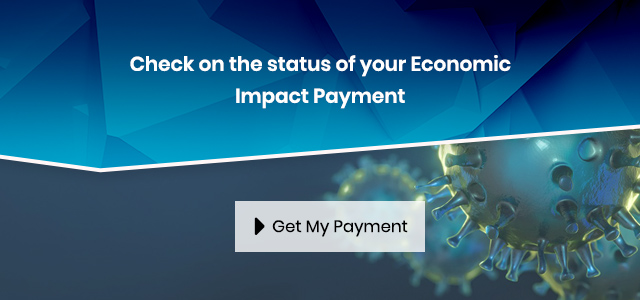 4/22/2020
HAPPY EARTH DAY!  The Shred Day event has been postponed.  We will reschedule and will post on social media when we have a confirmed date with the City of Oxford and Mississippi Shredding Services.  Thank you for understanding!
4/5/2020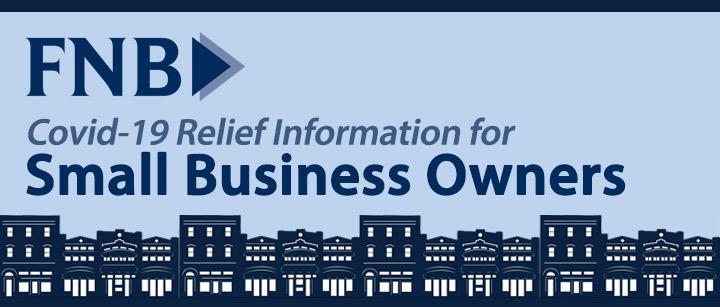 FNB now has portal access to SBA Paycheck Protection Plan.   Should your business be interested in pursuing this government loan, please visit
https://home.treasury.gov/cares
 for more information about the program and the final loan application.  Please be sure you have the Final Borrower application
completed and all supporting documentation.  At that time, please contact us via email CS@fnboxford.com or by phone (Oxford) 662-234-2821 or (Tupelo) 662-842-6678.  Our account services team will take your name, number and email address.  We will be in touch as soon as possible.  Thank you for your patience as we navigate this program together.
4/1/2020
Due to limited staff, our location at 1113 West Jackson Avenue in Oxford will be closed until further notice.  Please use the ATM or visit one of our other locations for your banking needs.  We appreciate your patience during this time.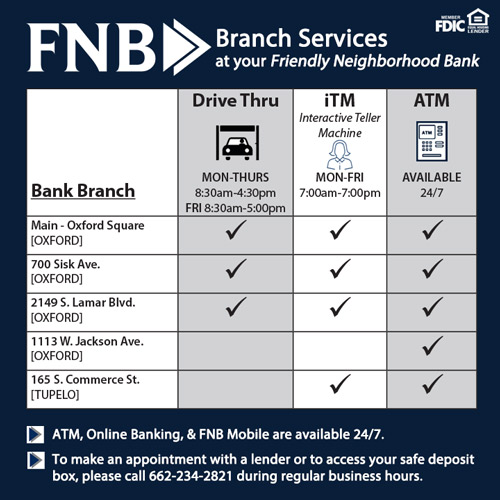 4/1/2020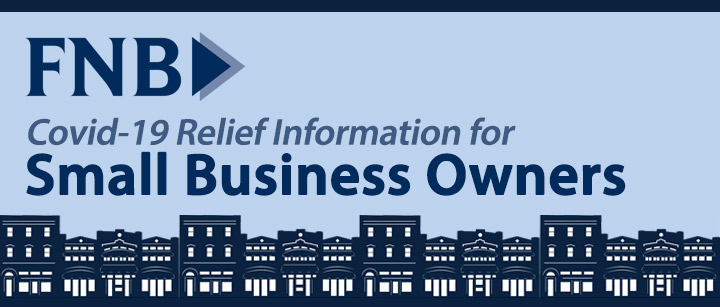 These last few weeks have been defined by concern, fear, and sadness as the spread of the Coronavirus has adversely affected the health of many of our friends, neighbors, and associates throughout the world. First and foremost, our thoughts and prayers are with those who have lost loved ones to this disease, and to those who presently suffer from Covid-19. We pray for comfort and for healing.
As a small business owner, you also are dealing with keeping your family and employees healthy. In addition, you desire to maintain your business enterprise and to provide continued employment to your staff. As you may have heard by now, the SBA will soon launch the "Paycheck Protection Program" that is designed for such a purpose. Those who wish to take advantage of this program may go to https://home.treasury.gov/cares to learn more , and to even begin compiling information for completion of the application.
As of now, lenders have yet to receive final instructions, but FNB expects to receive the necessary information within the next 36 hours. The
PPP is expected to go live on Friday, April 3rd.
Please call us anytime to discuss further (Oxford) 662-234-2821 or (Tupelo) 662-842-6678, or email Customer Service at cs@fnboxford.com.
We are here to assist you during this difficult time.
3/19/2020
Effective today, Thursday March 19, 2020 at 2:00 PM, All FNB locations in Oxford and Tupelo are Drive-Thru, iTM, and ATM service only.  We have restricted access to our branch lobbies.   We have also temporarily discontinued Saturday banking.   Should you need to meet with a personal banker, lender or gain access to your safe deposit box, please call 662-234-2821 to make an appointment.   We appreciate your understanding as we take additional precautions against the threat of Covid-19.
3/16/2020
Dear Valued Customers of FNB,
As your Friendly Neighborhood Bank, our desire is to provide continuous banking services to you, especially during unsettling times.  Given the recent declaration of the coronavirus threat as a national emergency, FNB is enhancing its cleaning protocols, is promoting social distancing within our facilities, and is allowing some of our staff to work remotely.
Our chief concern is the health and well-being of our staff, our customers, and the communities we serve.  To that end, beginning Tuesday, March 17th, FNB will implement these additional steps:
Lobby closures: Only the lobbies on Sisk Avenue and Jackson Avenue in Oxford will be closed until further notice.  Drive thru banking and ATMs, however, remain accessible at those two locations. In addition, our drive up iTM at Sisk Avenue offers video teller services from 7 am to 7 pm Monday – Friday, and on Saturdays from 9 am – Noon. Our other three branch locations remain open, but will have limitations as outlined below.
Social Distancing: Our staff will be limiting the number of customers within our other FNB lobbies at South Lamar, Tupelo, and on the Oxford Square.  We ask for your forbearance as we will be placing a high emphasis on social distancing.
Commercial Deposit recommendations:  Our night deposit vaults at each of our branches are the preferred method of accepting commercial deposits; however, we realize that businesses often require multiple services, as well as additional security. In those instances, our lobbies at South Lamar, in Tupelo, and on the Oxford Square will certainly welcome you.
FNB's online banking and mobile banking products also allow for individuals and businesses to conduct many banking transactions electronically.  If you desire assistance with these services, please contact us at 662-234-2821 or cs@fnboxford.com.
North Mississippi is home to us, and FNB wants to do its part to protect our friends and neighbors.  We appreciate your patience in our effort to provide a safe place for you to conduct your banking transactions.  We request that you join us in taking extra measures to combat the spread of the Coronavirus.
Thank you for banking with FNB!
Sincerely,
John L. Barrett
President and CEO
3/13/2020
To help preserve the health and safety of our staff and customers, FNB has been preparing for any local impact of the Coronavirus. Our aim is to do our part to minimize any impact the virus may have on our market areas, while continuing to serve our customers.
For those who wish to limit public interaction as much as possible, FNB offers the following banking solutions:
Our iTM (interactive teller machine) provides you with two-way audio / video banking with an FNB employee.  Our extended iTM banking hours are 7:00 AM – 7:00 PM Monday – Friday, and 9:00 AM – 12:00 PM Saturday.  (Available at our Tupelo Fairpark, Sisk Avenue, South Lamar Boulevard, and Oxford Square locations)
Our ATM (automated teller machine) provides 24/7 banking and can be used for making deposits, making withdrawals, or checking balances.  (Available at our Tupelo Fairpark, Jackson Avenue, Sisk Avenue, South Lamar Boulevard, and Oxford Square locations)
Glass barrier at the teller windows at our South Lamar location
Night Deposit services (Available at our Tupelo Fairpark, Jackson Avenue, Sisk Avenue, South Lamar Boulevard, and Oxford Square locations)
FNB Online Banking and Mobile Banking for personal and business use 24/7.  Great for viewing your E-Statements, researching account activity, and managing your FNB Debit Card.
FNB Mobile Check Deposit via our FNB Mobile App and

FNB Online Banking

Electronic Bill Pay via FNB Online Banking or our FNB Mobile App
Submit Check Stop Payments & Check Reorders via FNB Online Banking or our FNB Mobile App
Initiate Transfers and Make Loan Payments via FNB Online Banking or our FNB Mobile App
Please contact us with any questions about our services.
We are ready to assist you!
(662)234-2821• (662)842-6678