2021 Shred Day – Free Document Shredding Event
Date/Time: Thursday, April 22, 11:00 a.m. – 2:00 p.m.
Location: FNB Oxford Bank – 1113 W. Jackson Avenue, Oxford
A mobile shredding truck will be on-site to provide secure destruction of your confidential documents. Open to all residents of Oxford. (Limit 3 bags per household; event excludes businesses). For a list of acceptable items, please see below.
Please note:
Face coverings are required during drop-off. Please practice social distancing if there is a wait.
If you have symptoms or are feeling sick, please refrain from attending this event and make other arrangements for drop-off.
We appreciate your assistance as we continue to serve our community safely!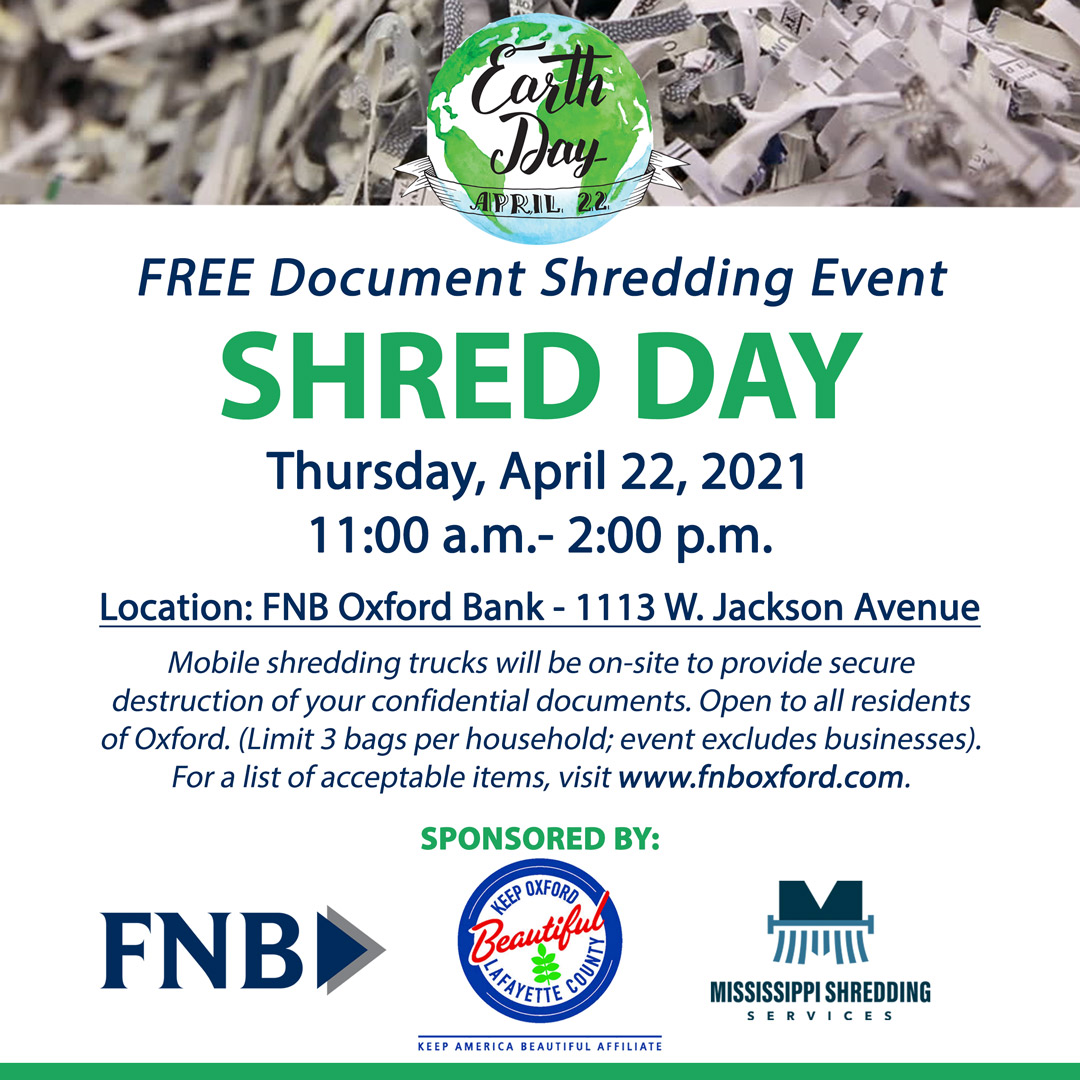 WHAT CAN AND CANNOT BE SHREDDED
from  Mississippi Shredding Services:
Our primary mission is to shred confidential paper documents and to recycle as much of that paper as possible so it can return to the marketplace and avoid being dumped in a landfill. The more pure the paper, the more likely it will be re-used.
It is difficult to provide a comprehensive list of every acceptable or unacceptable item, but here is a basic guide:
ACCEPTABLE AND OPTIMAL
White office paper (copier, computer, legal, letterhead, loose-leaf, cash receipts, memos, and other types of white paper) with any colored ink, non-glossy
ACCEPTABLE
Mixed Paper – Colored copier paper, windowed or windowless envelopes, yellow legal pads, manila and colored file folders, message pads; non-glossy flyers pamphlets and brochures
NOT ACCEPTABLE
magazines
Newspapers
plastic bags or sleeves
bubble-insulated envelopes
credit and ID cards
license plates
cardboard (including hardcovers of books and composition folders)
3 ring binders
notebook spirals
plastic file covers
hanging file folders
accordion folders
paper towels
napkins
tissues
CDs
disks
X-rays
blueprints
Styrofoam
prescription medicine bottles
no electronics or hard drives of any kind

plastic binder clips or any other large metal or plastic fasteners

rubber bands
WHAT HAPPENS TO THE PAPER AFTER IT IS SHREDDED?
The paper is taken to a paper recycling center for processing within 24 hours of each event.